Our "Road Recovery" program, which was launched with the Ministry of Infrastructure and Transport, to reorganize and optimize the managament of Italy's road networks, aims to add 6,250 kms of provincial and regional roads to our road infrastructure network, which would therefore expand and reach over 30,000 kms.
Our main objective is to guarantee a "territorial continuity" to the national itineraries that travel across many regions; roads that currently suffer from the fragmentation of territorial jurisdiction.
This "Road Re-entry" program began in August 2017 with an agreement that was later ratified by the "Conferenza Unificata" on the reorganisation of roads in 11 regionsì, and continued with the issue of the Decree of the President of the Council of Ministers of 20 February 2018.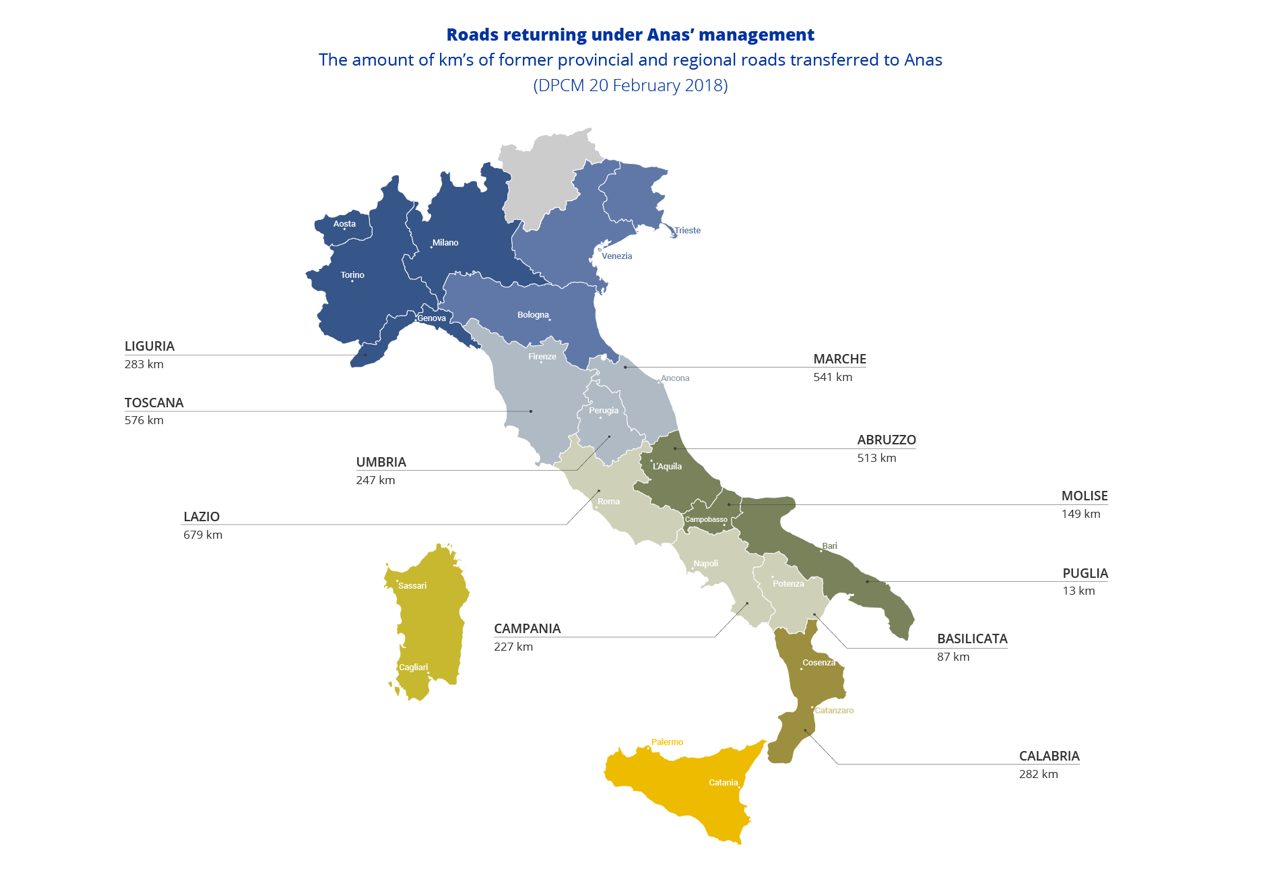 ROADS RETURNING TO ANAS
Region
Starting from (dates follow the Italian day/month/year format)
List of roads
Abruzzo
5/09/2018 Province L'Aquila e Pescara; 12/09/2018 Province Chieti e Teramo
Basilicata
1/08/2018 strada Nerico-Bella Muro; 29/10 Regione Basilicata, Province Matera e Potenza
Calabria
 
Campania
 
Lazio
 
Liguria
1/08/2018
Marche
 
Molise
1/10/2018 Province Campobasso e Isernia
Puglia
 
Toscana
 
Umbria
1/10/2018 Regione Umbria e Provincia Perugia
>p>-
BENEFITS
All roads that return to our network will undergo considerable interventions to recover the significant maintenance deficit accumulated over the past years and strengthen and rationalise the existing road infrastructure.
From an organisational point of view, on these roads we will extend our continuous surveillance systems and we will guarantee timely interventions in case of emergencies, thanks to the coordination of our National Situation Room and of our Regional Monitoring Centres.
THE PLAN'S LAUNCH
On 1 August 2018 our Recovery plan was launched when 280 kms of roads from the Regione Liguria were transfered to Anas. Currently more roads are being transferred from other Regions to Anas and this activity will continue during 2019.
In some Regions and Provinces we also have reached agreements to provide our services (for example: ordinary maintenace works, winter activities and surveillance) on their road networks.