The design of road infrastructure projects, including bridges, tunnels and intersections, is one of our points of strength and qualities
We have reinforced this area of activity in our company and internalised the various phases of design in order to accelerate investments. More in detail we design and manage projects from the planning and concept design stages to detailed design, construction and ongoing maintenance. 
For all of our new road infrastructure projects, our engineering specialists follow the entire cycle of "project-making" from feasability studies, to all of the following design stages and levels of authorisation, until the tender for the construction of the project is drafted.
Under current law, the design and construction of a road infrastructure project requires an authorization process that, in addition to Anas, involves other relevant Ministries. The approval process for a project is structured as follows: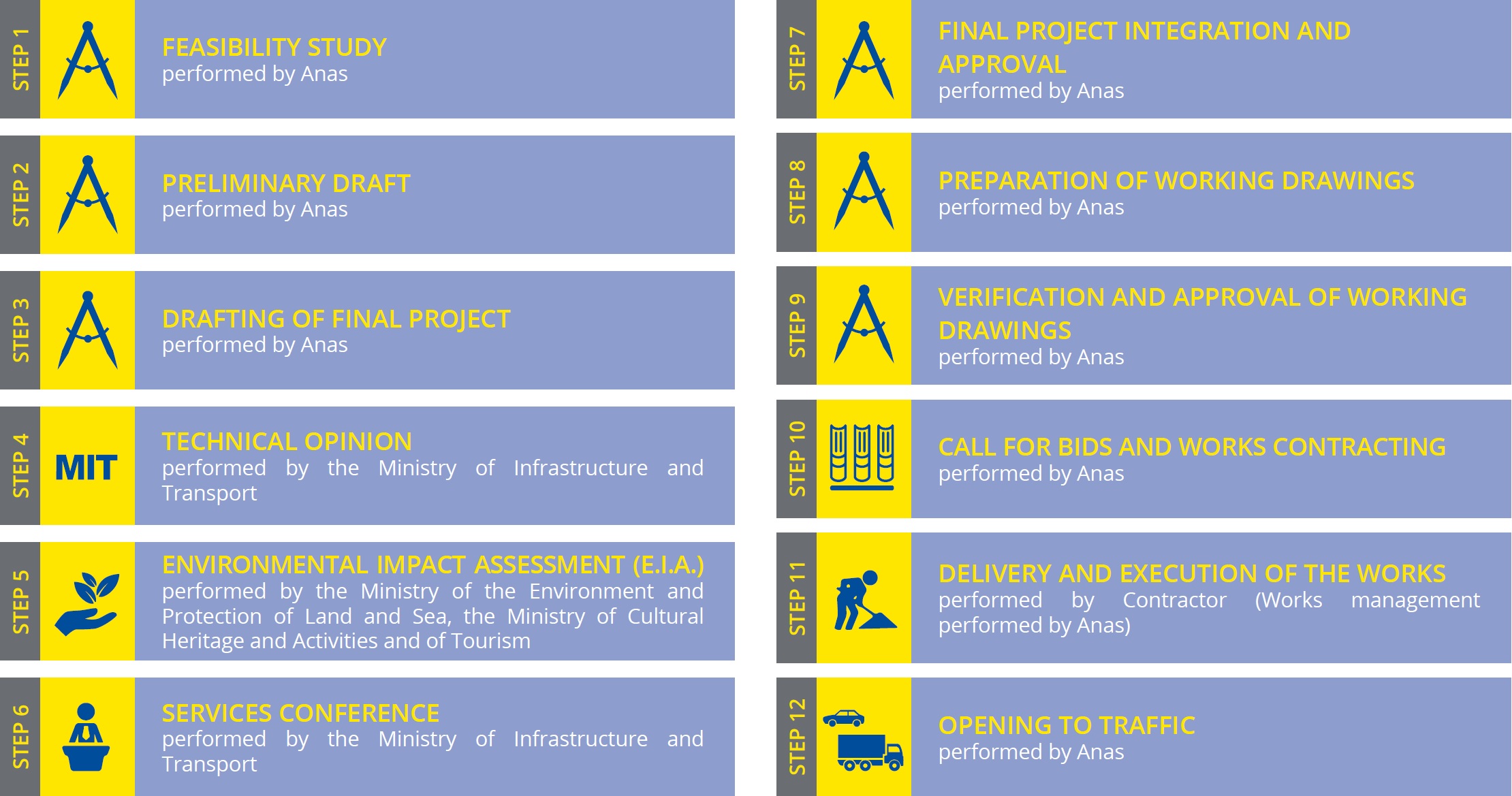 A TIMELY AND ACCURATE APPROVAL PROCESS
We consider it essential, in this context, to design road infrastructure with an effective planning process that considers local needs and requests. More in general the design of each infrastructural work is part of a broader planning process for the entire national territory that is constantly updated. 
The design phase also is fundemental for future ongoing road maintenace works that aim to safeguard, and when needed, restore our road networks' essential characteristics. The purpose of road maintenance is to prolong a road's life and postpone the day when renewa will be required. It also helps to keep roads open and enables greater regularity, punctuality and safety of road transport services.
This is why we place great attention on road maintenance and technology during a road project's design phases, also through Building Information Modeling (BIM), a process involving the generation and management of data and digital representations of physical and functional characteristics of places and objects, that improves a road projects efficiency and costs. We are steadily moving towards the concept of a "fully equipped" road, with the installation of new technological components that help ensure and improve road planning, safety and comfort.
Call for research projects
We want to improve the efficiency and durability of the extraordinary maintenance works on our road and motorway network's bridges, viaducts and tunnels, through research projects that aim to develop innovative approaches to structural repair works. This is the reason our Operationd and Territorial Coordination Department has invited public and private companies interested in developing this kind of activity to forward research project proposals.