We are an innovative, efficient and transparent joint-stock company that operates on a national and international level with Ferrovie dello Stato Italiane as our sole shareholder. Anas is also subject to the auditing and technical-operative supervision of the Italian Ministry of Infrastructure and Transport.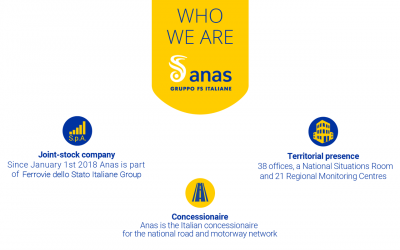 Our company has over 6,000 employees, many of which are road operators, engineers and architects and we manage approximately 30,000 kms of Italy's national road and motorway network, with projects that aim to expand and continuously develop this network and a Multy-year Investment Plan (2016-2020) of approximately €33 billion.
Thanks to the substantial experience gained in over 90 years of activity and the skill of our personnel, we have expanded our range of services, providing support to public entities and spurring roadway design, construction and maintenance in Italy and abroad.
Our main goal is to ensure the territorial continuity of the road network we manage and an ever safer and more efficient viability, in accordance with estimated time and costs, through investments in Research & Innovation and the use of cutting-edge technologies and materials. We are also accustomed to work in difficult conditions, due to our country's geological complexity. An example? The 1,900 tunnels we manage on our road and motorway network represent more than half of the road tunnels in Europe!
Through a network of 21 Regional Monitoring Centres, a National Monitoring Centre and a fleet of over 1,000 vehicles equipped with cameras and GPS satellite systems, we constantly monitor our roadway infrastructure to ensure safety and viability, while coordinating the activities of our operating personnel.
More in detail: we manage 32,395.615 km's of roads and motorways in Italy - including junctions and slip roads - and we have recently started a recovery plan that includes approximately 6,250 km's of regional and provincial roads. As a result our network will soon expand and include over 30,000 kilometres of roads and motorways, efficiency will increase and a more rational road section management will be ensured.
Anas' goal is to strengthen Italy's strategic infrastructure, improve access to urban centres and upgrade and develop intermodal connections. We also want to lead our country towards the digital transformation of its road infrastructure, in order to provide services that facilitate mobility, comfort and the monitoring of road works.
Watch this video: Company profile