WHO WE ARE
Being part of our company means playing an important role in our country's economy and the general populations' well-being. Each person's works in Anas is founded on the principles and values that guide our management, procedures and communication. Our leading values also play a primary role in our company's strategy which aims at disseminating, sharing and integrating these priciples with our stakeholders, so that they can become a behavioural "reference" for everyone, in line with our corporate mission and identity.
Every day each employee is called upon to confirm his or her commitment before colleagues, co-workers, consultants, shareholders, clients, partners, suppliers, institutions, and the general collectivity. We also expect our values to be embraced by all those who do not work for Anas but have an interest in our activities.
Our company's "team" is formed by over 6,000 women and men, who work throughout Italy to guarantee innovative services and real time support to anyone who uses our road network of approximately 30,000. Ensuring that our company's objectives are pursued with the utmost dedication is the duty of our process managers and of each and every employee.
HUMAN RESOURCES - FROM FINANCIAL STATEMENTS  2017
Employees role
2017
2016
Managers
157
159
Other employees
5.870
5.838
Total
6.027
5.997
Hired full time
5.786
5.813
Hired part time
187
132
Other contracts
54
52
% of women employees
22%
22%
 
Diversity & Inclusion is a core aspect of our evolving culture that helps us fulfill our company's mission.  We consider diversity a value and an asset for everyone. This is why we safeguard "protected" employees and offer equal opportunities during our recruitment and hiring process.  
High standards and quality are the result of our capability of attracting, selecting and training the best employees and dedicating their skills to the design, construction and management of our road infrastructure, while focusing on safety, environmental protection, energy efficiency, as well as on safeguarding the surrounding landscape. Especially in technical positions we have highly qualified personnel (mainly engineers, architects and surveyors) and we strongly invest in their training and "technical" education. 
Our attention towards social, ethical and environmental issues also plays a primary role in defining our responsibilities, commitment areas and in the assesment of achieved results. We promote the protection of people and resources and this  strongly contributes to increase the mutual trust between our company and the collectivity.
We are also strongly committed to disseminating a "road safety culture" through the promotion of awareness-raising campaigns, in cooperation with various national and local authorities and institutions.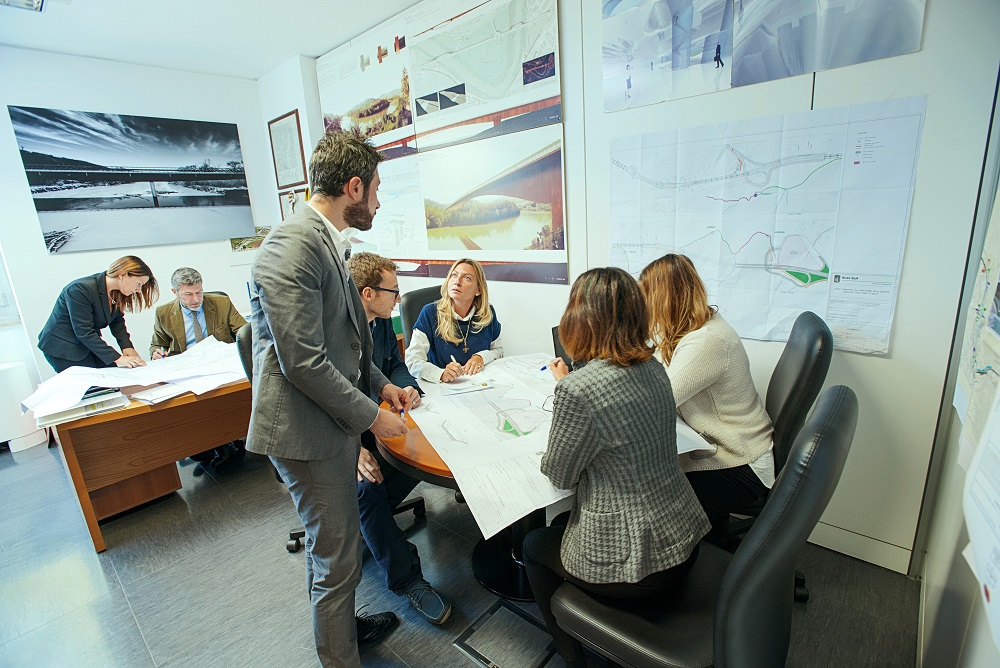 OUR CHOICES FOCUS ON IMPROVING CORPORATE STANDARDS